Play Craps Online In New Jersey
Craps is one of the most popular dice games around the world. There are many variations of craps played, these include street craps also known as rolling dice or shooting dice. This variation is played among friends mostly and does not take place in a casino. Casino Craps is known as table Craps, which includes a large table and more betting options. Out of the 2 variations, casino Craps is easier to play and offers a more professional gaming opportunity.
The objective with Craps is to estimate the outcome of each dice roll. The table consists of various betting options, which includes results of the 2 dice that are rolled by you or other players. Betting options include either betting on a single outcome or multiple rounds.
Craps is a difficult game to understand at first, but once you learn the basics of the game, you will be able to play and develop your own playing style. The game provides a broad range of reward opportunities, but most professionals use betting combinations to cover more of the possible results and make the best of their rewards.
The History of Craps
The origins of Craps can be traced back to an ancient English game called "Hazard," but the game may have been invented during the times of the Crusades. Later, it was adopted and altered by the French. The modern version of the game was taken to New Orleans by a wealthy politician and gambler called Bernard Xavier Philippe de Marigny de Mandeville. His game was flawed as it helped players to cheat the casino. These flaws were later rectified by John H. Winn, who introduced a brand new type of craps bet called Don't Pass. Today, Winn's version of craps is played at casinos all over the world.
Today's variation of the game provides a broad range of reward opportunities when the correct method is used to play the game. Craps is known to provide one of the highest payout rates on any casino floor but has also become a dangerous game for beginners who don't understand the rules of the game. However, the advantages of the older version have been removed due to the no pass line rule, making it a lot more interesting and fun to play. Those who have taken the time to learn the game, have been known to have the ability to cash in huge amounts.
Craps Betting Options
Those of you who have been around a Craps table will know there are many different options when it comes to betting. The basics will only get you that far and won't include all the options required to play the game to its fullest potential. Below we will go through most of the options and try to explain how they work.
Line Bets
Line bets start the game as the shooter (player selected to roll the dice) has to place a bet on the Pass line or Don't Pass Line before rolling the dice for the come out roll. Other players who are not shooting have the option to bet on either of these lines as well. Some casinos will require all players to make either bet before other bets are placed.
Pass Line
The pass line is the most significant bet in Craps and players who bet on it, bet that the shooter will win. There are only 3 possible outcomes for this bet, which includes a win when the dice totals are 7 or 11. A loss will occur when the dice provide a total of 2, 3, or 12, which is also known as crapping out. All other numbers rolled will establish the point Should this occur before the other 2 options mentioned, the game will continue until the same number is rolled or a 7 is rolled. The pass line bets will lose if the 7 is rolled before the established point is rolled again, meaning the pass line will win if the point is rolled before a 7. This payout provides even money to all bets placed on the pass line.
Don't Pass Line
Basically, the Don't Pass Line is the opposite of the Pass Line, meaning a bet is set for the shooter to lose. If the come out roll is 2 or 3, the bet will win, but if it results in a 7 or 11, the bet loses. Should the result be 12, the bet will be pushed, meaning no one wins or loses. Some casinos will provide the option to choose 2 or 12 for the push result, which are known as Bar Aces (2) and Bar Sixes (12). Any other numbers will establish the point. For the don't pass line to win a 7 needs o be rolled before the point is rolled again.
Once the point has been established, players have the option to reduce the bet amount or remove it complete from the Don't Pass Line. However, once the point has been created, this bet cannot be increased or reestablished after being reduced.
Multi-Roll Bets
These bets cannot be placed before a point has been created. However, some casinos will allow certain numbers, but this will be announced as a working number by the dealer. These multi-roll bet options include Place, Buy, Lay, Put, and hard way, which are all options offered to players who are interested in betting Multi-Rolls.
Place Bets
A place bet is a wager set on any of the numbers shown at the top of the table. These numbers include all those where a point can be set, such as 4, 5, 6, 8, 9, and 10. Players will need to wait for the point to be set before a bet can be placed on any of these numbers. The objective is for the shooter to roll these number before rolling a 7, which will result in a win each time for those who have placed a bet on those numbers. Once a 7 has been rolled, the bets will be removed. Players also have the option to reduce the bet values at any time, but cannot increase the values once reduced or removed from the Place bet numbers.
Buy Bets
Buy Bets are basically the same as a Place bet, but with better odds as players are charged a 5% commission for each winning they achieve with the numbers wagered on. The same numbers are available as the place bet with higher payouts. Usually, the casino will also require a higher bet value to accommodate a higher commission on payouts.
Lay Bets
Lay bets are the opposite of a buy bet, meaning you bet that 7 will be rolled before any laid number is rolled. Laid numbers can include 4, 5, 6, 8, 9, and 10, which are selected by the player. The option to select multiple lay numbers is also available. These provide true odd winnings, which are higher than average odds of lay numbers.
Put
Put bets provide players the opportunity to wager on the Pass Line and Don't Pass Line after the come out roll has taken place. These options are popular with players who would like to increase their odds on an existing line bet.
Hard Way
Hard way bets can only take place on 4, 6, 8, and 10, which requires those numbers to be rolled with a double before it will win. Players can choose any of the numbers mentioned and also choose multiple numbers at any time in the game with some casinos whereas other casinos will not make these numbers working.
Big 6 and Big 8 Bets
Big 6 and Big 8 bets are popular in some casinos. These bets mean that you select 6 or 8 to be rolled before a 7 appears on the dice. These bets pay even money but are not available with all casinos. This betting option is accessible in the bottom corner of a Craps table.
Single Roll Bets
Players can also take advantage of single roll bets, which include multiple combination options in the center of the table. A bet on these can provide a broad range of huge winnings, but the odds are also much lower that they will come up. These include Snake eye (2 Aces), Ace-Deuce ( pays on a roll of 3), Yo (pays if the shooter rolls 11), Boxcars (pays if the shooter rolls a 12), hi-lo (Pays if the shooter rolls 2 or 12), Any Craps ( pays if 2, 3, or 12 comes up).
C&E
C&E bets cover both Craps and Yo, meaning 2, 3, 11, and 12 will be covered with this bet. However, the bet will be divided in 2 with this option as 2 betting options are covered with a single bet. Some casinos will require a higher minimum bet for these bet options.
Other Bets
The game of Craps includes other bet combinations as well, which are basically the options mentioned above that are involved with more numbers. However, to start playing the game, the above information is more than enough. We recommend having this page open while you play to ensure you place the right bet nd take full advantage of the winnings Craps has to offer.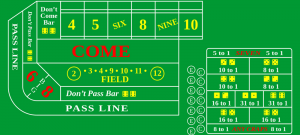 Diagram displaying Craps betting options
Tips for Playing Craps
Since the game has so many options relating to betting, it's difficult for players to learn anyone else's strategy as it usually turns out to too confusing. However, there are a few tips that will assist in beating the game and providing a profit.
Craps is basically a luck-based game, but players can make a profit if they thoroughly understand each type of craps bet and the gaming circumstances that surround them. Some types of craps bets have a lower house edge while others have a higher house edge. It is up to players to understand the odds perfectly before placing their bets, which can be done easily with online games as each of them provide the payouts in a pay table that can be left open while you play.
The best bets include the Pass and Don't Pass line as they only have a house edge of less than 2%. These bets also provide a 50% chance of doubling your money, making it a great place to start each round before other bets are placed. Once the come out roll has been played, be sure to Place 6 and 8 and Buy 4 and 10 as they are cheaper. This will ensure most of the board is covered, giving you rewards all the way. Some players may choose to reduce the bet value on those numbers once you've doubled your cash or made a healthy profit, which simply reduces your risk and provides a better overall result.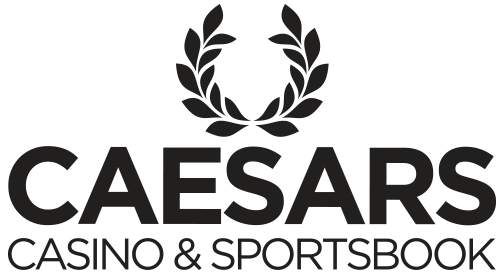 Up to $300 on your first deposit