The term "Stud Poker" consists of multiple variations of Poker games that are based on similar rules. Stud poker players receive a mixture of face-down and exposed cards in the course of several betting rounds. Table position hardly matters in the case of stud poker, and usually, the player with the best face-up cards is the first to bet in a round.
Stud Poker can be played in many different ways, which can be found in online casinos. Each of these variations feature unique rules and provide a different amount of betting options. However, the games are relatively easy to play once you understand how it works, when you can bet, and what the payouts are.
The most common variations of the game include 3 Card Stud Poker, 5 Card Stud Poker, 7 Card Stud Poker, and Carribean Stud Poker, which comes with an additional side bet option for a progressive jackpot. In this article, we will cover these variations and much more while also providing the rules of how to play these games at any casino.
The History of Stud Poker
Three Card Stud Poker games were very popular during the American Revolutionary War. Another variant called Five Card Stud Poker was developed during the American Civil War and commonly played among soldiers. Later, Five Card Stud gave way to Seven Card Stud, which is not only available in land-based and online casinos, but also played in private. Most of the other modern variants of stud poker are derived from Five Card Stud and Seven Card Stud. Although Seven Card Stud is no longer as popular as Texas Hold'em Poker, some players still love to play it.
The online market, however, provides all of the mentioned variations with different games styles and wager options. Some of these games such as 3 and 5 card Stud Poker can also be found with land-based casinos but is mostly only available with America casinos.
Online casino developers have also managed to create a unique gaming opportunity with live dealer variations of Stud Poker. This is played with standard game rules but can be enjoyed via PC and mobile devices where you will see the actual dealer on your display to provide a fair and professional game. The future holds great advancements for games such as these as both land-based and online casinos are working on more advanced ways to provide these types of games in a more enjoyable manner.
How The Game of Stud Poker Works
Playing Seven Card Stud is fun and easy. Each player is dealt two face-down cards and one face-up card, to begin with. Players should first study these three cards and decide if it is possible for them to create a strong poker hand with these cards. If they feel they cannot, they can fold and leave the table. If they feel that it is possible, the can continue the game.
In the course of the game, players are dealt a total of three face-down cards and four face-up cards, and they should use these cards to create a strong five-card poker hand. The strongest hand that a player can create is the Royal Flush, which gets paid the most.
Starting hands are of great importance in Seven Card Stud. If players have strong starting hands, their chances of creating a strong five-card hand are greater. Since it is a strategy game, players need to practice a lot to master Seven Card Stud.
Stud Poker Variants
As mentioned above, there are multiple variations of the game that include a gaming opportunity for all players to enjoy. Other than the 5, and 7 Card Stud variations, players can also take advantage of Six Card Stud, Razz, Eight-or-better High-Low Stud, Mississippi Stud, Caribbean Stud, and Mexican Stud, to mention just a few.
Caribbean Stud Poker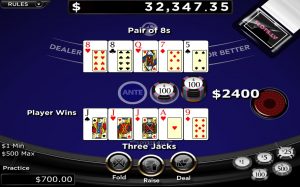 Caribbean Stud Poker is very common among online casinos as it is a fast paced game that usually also includes a progressive jackpot opportunity. The game only provides 2 betting options that consist of the Ante bet to play the game and the raise option, which is offered once 5 cards are dealt to the player and dealer. In some variations, one of the dealer cards will be face up, and 4 cards face down while your cards will all be exposed. Should you choose to fold, you will lose your Ante bet and will have the opportunity to place another bet for the next round. The dealer will require at least a King or Ace to qualify. If the dealer does not qualify, you will receive double your Ante bet, and your raise is returned. However, should the dealer qualify, your hand will be assessed, and you will be rewarded according to a pay table.
These payouts range from even money through to 100 to 1 of you bet value. If your high card is better than the dealer's or you have one pair better than the dealer's, you will receive a 1 to 1 payout. Higher combinations will include bigger payouts such as a two pair that offers 2 to 1, three of a kind pays 3 to 1, a straight will reward 4 to 1, a flush 5 to 1, full house grants 7 to 1, four of a kind pays 20 to 1, a straight flush will grant 50 to 1, and finally a royal flush will provide 100 to 1.
[table id=6 /]
Seven Card Stud
As previously mentioned, Seven Card Stud remained the most popular variant of poker till the arrival of Texas Hold'em. The game requires a minimum of two to a maximum of eight players. However, the game has special rules in case there are eight players and none of them fold.
The games rules are easy to understand, and the hand rankings are based on Texas Hold'em Poker, with these being similar to the hands mentioned above for Caribbean Stud Poker. However, Unlike Caribbean Stud, this game is played among players who need to achieve the best 5 card hand at the table to win.
Another common variation of Seven Card Stud is Razz, which works exactly the same as mentioned above, but here you aim for the lowest possible hand. This means the best hand is 5, 4, 3, 2, A, which is also known as a wheel. In this game, which is also known as California system, Ace is always low and hands such as straights and flushs do not count.
Five Card Stud Poker
Five Card Stud Poker is the most classic variation of Poker. The game is also played among players around a table, but can also be used as a casino game. However, in the multiplier variation, you will find 5 cards are dealt to each player and no community cards are involved. After the first betting round, players will move through to the draw option, which allows them to change up to 3 of their cards.
Tips for Playing Stud Poker
For those of you who would like to learn how to play Stud Poker, we recommend starting off with Caribbean Stud as the rules are easy to follow and payouts are massive for some hands. As mentioned above, there are some variations that use different rules, such as Razz that requires a low hand to win. However, with Caribbean Stud Poker, players will be able to learn the rules of the game and understand how it's played before moving onto more complicated variations of the game. In addition, as mentioned above, a progressive reward opportunity is also possible in the game with online developers.
The most important thing to remember with Caribbean Stud Poker is the hand rankings and what your chances are of winning. Most professionals would tell you that at least a combination is needed to raise and continue to the next round as having a higher card than the dealer is rare, and the possibility of the house having a combination is just as good as yours.
There are also some combinations that shouldn't be played, such as low pairs including anything below a pair of 4's. However, be sure to keep an eye open for 2 pairs with low values as this could result in fairly high reward opportunities.
Not many professionals use strategies. However, a progressive betting system will allow you to take advantage of almost every hand and obtain back your losses with each hand you win. This could be a very expensive strategy as you would need to double up on your bet each time you raise. The strategy tells you to double up on each Ante bet when a losing hand takes place when covers your losses as well.
The reason this can become an expensive strategy is due to the fact that Caribbean Poker requires you to double your bet for the raise. This means if your Ante bet is $1, your raise bet would be $2. With a progressive betting strategy, your Ante bet would be $8 after just 3 losses, which means your raise bet would be $16. This is why they recommend not playing each and every hand. The hands you fold on will also be covered by the winning bet when using a progressive system.
In other words, should you decide not to raise on a hand, take the loss by folding and play the same bet again, should you fold twice double up again as you would with a round that resulted in a loss after you've raised.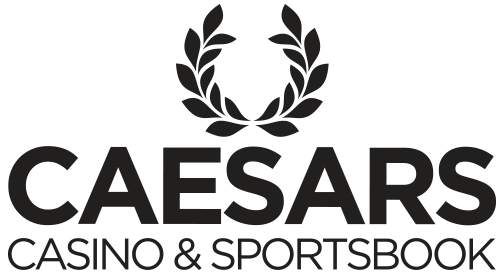 Up to $300 on your first deposit